A domain is, in short, a website address. It makes it easy to find your site on the internet. Entering it in the browser window automatically moves the user to the appropriate place on the network. For example, by entering www.webwavecms.com you will find our homepage.
You can read more about the technical aspects of the domain in one of our previous articles. Now let's focus on how to choose its name in such a way as to encourage recipients to visit the site, make them remember it and come back to it in the future.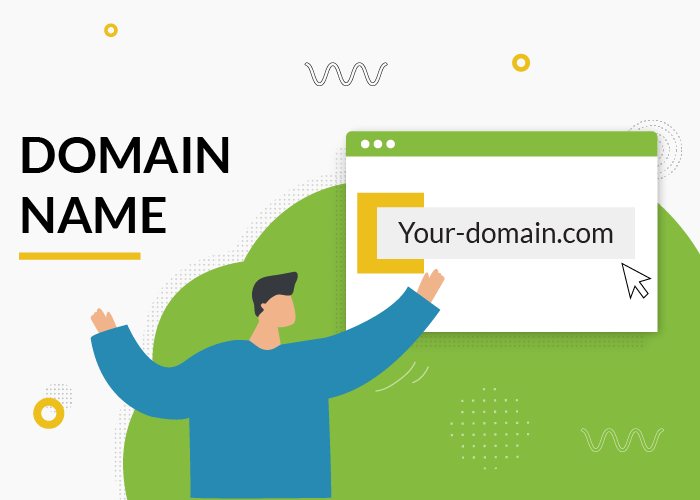 Using a www subdomain
Subdomain, or www., Was until recently a mandatory element of the domain. Therefore, users are accustomed to entering the address of the page starting with these three letters. 
Remember that a domain without a subdomain will lead to a different page than the one with the subdomain. This means that by entering www.webwavecms.com andwebwavecms.com in your browser, you 'll find two different sites. Therefore, if you want to use both addresses for one page, you must redirect. 
This solution has one important advantage - regardless of whether the user enters the address of the site with a subdomain or without, (s)he always goes to your site. 
On the other hand, having two addresses can cause problems in website positioning. Traffic from links leading to subpages will then be divided, which will cause SEO results to deteriorate. Therefore, in this case, you must also remember to redirect. 
The most important domain element - name
This part of the domain will make your site stand out - you should spend the most time creating it. Pay attention to several aspects.
Be original 
An ideal domain should immediately evoke associations with your site. If you run a business, it is good to simply enter the company name here. You can also use words that are associated with your business or website theme. 
Don't fake famous brands
This is the best way to discourage users. Some website owners are counting on getting users by naming sites associated with popular addresses. It is not worth registering domain names like facebook or youtube. This way you will only upset people who made mistakes when entering addresses of popular websites and accidentally came to your site. 
join over 200 000 people who build websites with no coding for free
Website builder WebWave allows you to build free websites with no coding for free. Start from scratch with a blank page or use one of many free templates

BUILD YOUR OWN WEBSITE FOR FREE
Don't overdo it with the number of characters
Long and complicated names will not work well. First of all, they're hard to remember. Secondly, it's easy to make a mistake when entering them. Remember not to hinder the user from finding your site on the internet. From a technical point of view, the maximum length of the name is 63 characters, but in most cases, they are much shorter. Most often they are between 4 and 30 characters. 
The name should be easy to write and pronounce
Do not use difficult names. You need to pay special attention to this aspect if you are directing your message to foreign clients. 
Avoid numbers and special characters
Most domains consist of just letters. This is another feature that makes it easier for users to enter the page address. 
Well-chosen domain encourages recipients to visit the site, make them remember it and come back to it in the future
Choose the right extension
The extension is the last element of the domain. It appears after the name and begins with a period. The most popular extension is .com. This is what users from around the world are used to. You should use it, especially if you direct your message to the foreign markets. If you operate on the local market, select the extension related to it. For the United States -.us, Germany - .de, etc. You can also use a second-level domain, for example com.de.
There are also functional domains. .org will refer to NGOs, .edu to education-related sites. 
Recently, extensions referring to specific market niches, for example .hotel, are becoming more and more popular. It is worth using them because they are still relatively unpopular and it is easier to combine them with the name we have chosen, which may no longer be available, for example with the .com extension. 
Conclusion
Choosing a domain for our website is an important task. Users will get on the website by typing it in the search engine. This is one of the most important elements of building a website. 
You should also remember that creating a domain is part of branding, - building brand awareness. It is about evoking its positive image in the minds of consumers. This effect is achieved by operating in many fields at the same time. In addition to the domain itself, attention should be paid, among others, to the brand name, logo, advertising slogan and the message and appearance of promotional materials.
So let's spend a few days choosing a domain. Thanks to this you will be able to build brand awareness, attract users, make them remember your site and will be happy to come back to it. 
Make sure to read the following articles:
Author: Jan Chmielowski